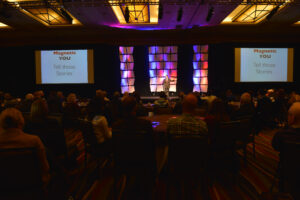 Certified Speaking Professional...  Often I get asked, what do those letters mean?
Jess Todtfeld, Leadership, Communication KeynoteWhat is a Certified Speaking Professional?
What is a CSP?
The Certified Speaking Professional designation, established in 1980, is the speaking industry's international measure of professional platform skill. The CSP designation is conferred by the National Speakers Association (NSA) only on those speakers who have earned it by meeting strict qualifying criteria. The letters CSP following a speaker's name identify that speaker as a speaking professional with a proven track record for understanding and delivering value from the platform.
The C.S.P designation helped me get accepted by the Best Speakers Ever agency.
You can also visit my speaker website directly at: www.JessTodtfeld.com
Why Should You Hire a CSP?
Clients and audience members will assess the success of your programs based on the relevance of the topics addressed and the caliber and professionalism of the speakers who present them. Even the most relevant topics will go unnoticed if the speakers fail to connect with, and bring their messages to life for, audience members. Choosing a CSP is one way of maximizing the opportunity meetings provide for inspiring and instructing participants. CSP(s) are speakers who have demonstrated their ability to capture and hold audience members' attention, bring key topics to life and leave impressions that will lead participants to implement what they've heard—and remembered.
How Many CSP(s) Are There?
Less than 1% of professional speakers worldwide hold this designation. That is less than 1000 people. That number represents just over 10% of the membership of the National Speakers Association. The small number of professional speakers who have earned the CSP designation speaks to the difficulty of meeting the qualifying criteria.
What Are The Qualifying Criteria?
Present a minimum of 250 professional speaking engagements with this same 10-year period and provide data on at least $250,000 of training or speaking sold.
Submit testimonial letters from clients served
A Committee will watch a video of a recent presentation and vote to move the candidate forward
Receive excellent ratings from past clients on professional performance evaluations

Continue education in the professional speaking field through NSA's many educational programs

Maintain membership in NSA and subscribe to its Code of Professional Ethics




---
Choosing the wrong keynote speaker for a conference or event can be a costly and time-consuming mistake, with far-reaching consequences for both the event and the organization. With so many factors to consider, it can be overwhelming to choose the right speaker for your event. But making the wrong choice can have painful and embarrassing results.
One of the biggest pains of choosing the wrong speaker is that they may not be able to deliver on their promises. They may not have the expertise, experience, or personality to engage and inspire your audience. The result is a lackluster or even disastrous keynote presentation that leaves your attendees unimpressed and dissatisfied.
Another pain is the risk of reputation damage. A poorly chosen speaker can reflect negatively on the event, the organization, and the host. Attendees may spread the word about their disappointment, and future events could suffer as a result.
However, choosing the right speaker, especially one with a professional designation and represented by an agency, can be a game-changer. The benefits are many, including a guarantee of professionalism, credibility, and expertise. A professional speaker will have the experience and skills to captivate and inspire your audience, leaving them feeling energized, informed, and motivated.
In addition, working with a professional speaker agency can help ensure that you choose the right speaker for your event. Agencies have access to a wide pool of talented speakers and can work with you to find the perfect match for your audience and your event.